This week the AIM students learned about recent developments in cryptocurrencies and blockchain technology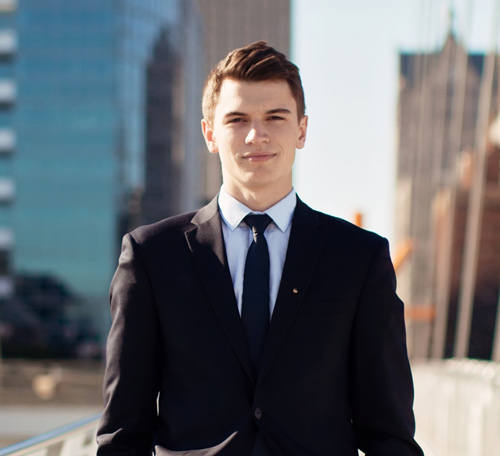 Derek Urben of Coinigy visited the AIM Program
Derek Urben, CFO & Business Development, of

Coinigy

(a Milwaukee-based Blockchain Market Intelligence Company) presented to the AIM students in Dr. Krause's class on Monday, September 25, 2017. He talked about a number of timely issued likely to impact the finance industry within the next few years.
He began by providing some useful quoted from highly regarded economic and financial experts. For instance, "Cryptology represents the future of privacy [and] by implication [it] also represents the future of money, and the future of banking and finance," per the words of J. Orlin Grabbe, noted economist.
Tom Dietz, Dr. Krause and Derek Urben
According to Dr. Krause, "Derek did a wonderful job taking difficult topics (i.e. blockchain and cryptocurrency) and explaining them clearly. For instance, he helped the AIM students understand blockchain – which is a distributed ledger made up of blocks (i.e. records) that record transactions between two entities in a verifiable manner. He explained that each block is timestamped in order to link it to the previous one to create a chain, where any change requires altering all following blocks as well as network majority consensus."
Derek Urben, Dr. Joe Wall and

Max

Mattappillil
Krause continued, "Derek also clearly explained bitcoin which is basically the first implementation of a blockchain to create a decentralized, payment-to-payment system. As a cryptocurrency, it uses a network of nodes to relay transactions. He helped the students understand that Bitcoin is not issued, administered, or wholly owned by any government body or institution – like the Internet."
He took the students back to January 2009 – and the birth of bitcoin. "In early 2009, the first implementation of a blockchain – Bitcoin – was released as open-source code by Satoshi Nakamoto. While Bitcoin wasn't the first digital currency, it was the first to include blockchain technology paired with a proof-of-work system and inflation control. Derek then brought the students up to September 2017 and updated them on the current status of the global cryptocurrency market.
Derek Urben, CFO & Business Development
Coinigy, a Blockchain Market Intelligence Company