It may not surprise you that a teenager would pick Facebook as a valuable company. But what if the teen had made the choice based on their own SWOT analysis of Facebook and presentation on stocks comparable to the social networking giant? That's the type of in-depth analysis you'd hear from Ahlexis, student at James MadisonAcademic Campus (JMAC), after an immersive financial field trip to Marquette University.
JMAC students pitching a stock idea
Following a recent visit to Marquette's campus, Ahlexis and her Milwaukee high school classmates undertook a stock evaluation session in partnership with students from the University's

Applied Investment Management

(AIM) program. This work, surrounded by the stock trackers, computerized models and business news on TVs, "was the best part of the field trip" for Ahlexis.
"We learned a lot about major businesses and presented an analysis on companies Marquette University invested in," Ahlexis said. "We broke up into a group of seven and talked about advantages and disadvantages to investing in the assigned company. My group had Facebook. We utilized Yahoo Finance researching investments and stocks for large companies such as Nike and Google. … I had a lot of fun with my friends and the students from Marquette University."
The AIM undergraduate program at Marquette provides hands-on academic and security analysis experience for a select group of finance majors. AIM students actively manage an equity, international and fixed income portfolio during their senior year. During this visit from JMAC students, the AIM participants were able to mentor the next wave of financial professionals as well as work on some of the coveted soft skills in financial relationship management.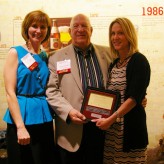 Dr. Krause and JMAC students in the AIM Room
Dr. David Krause, AIM director and adjunct assistant professor of finance at Marquette, said two major aspects of the experience stood out to him. First, despite their age differences, the high school and college students worked "effectively to deliver an investment analysis of the companies." Secondly, the JMAC group had no problem leading the room when it came time to deliver investment reviews.
"Standing in front of 35 people and speaking on a topic that was unknown to them just an hour ago would strike fear in most people. That wasn't the case with the JMAC students as they openly expressed their ideas and thoughts about investment opportunities."
Joanne Wycklendt, senior in Marquette's College of Business and AIM member, said the visiting teenagers made astute business connections, including one who teased out a discussion on retail competition based on observations from a cashier job.


"The students were really good at connecting real world experiences with investments," Wycklendt said. "They were great at switching from a consumer's mindset to an investor's."

After the experience with college students on campus, Ahlexis also said she can't wait for the investment she's made in high school to pay off in secondary education.
"I can't wait until I go to college because they showed me how fun and easy it is to be a smart college student."
Marquette's AIM program allows a select group of finance majors to get hands-on academic and financial analysis experience, including an opportunity to actively manage domestic and international equity and fixed-income portfolios.
Students study the core body of knowledge covered in the Chartered Financial Analyst (CFA®) exam – preparing them to take the test upon graduation – and begin a career in the money management industry.
The AIM program was the first undergraduate business program selected as a Program Partner by the CFA Institute. The partnership designation means that Marquette University offers a degree program that covers at least 70 percent of the CFA Institute's Program Candidate Body of Knowledge, the CFA Institute Ethical and Professional Standards, and other requirements.